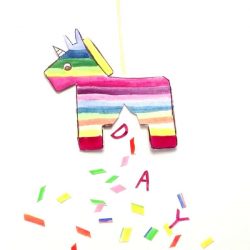 Birthday Piñata
$12.99
Birthday celebrants of all ages will love getting this Happy Birthday piñata flipbook instead of a traditional greeting card.
Watch the smile grow across your loved one's face as the pages flip to reveal what's hiding inside the piñata.
Children will love to flip through this book over and over again, and adults can tuck this mini-book in a pocket as a reminder of your birthday greetings.
Measures 4 inches wide by 2.5 inches high