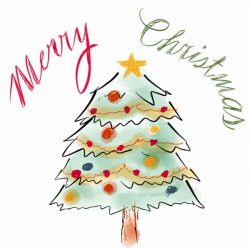 $12.99
Christmas trees are much more than decorations. They are the embodiment of the season: choosing a tree, stringing the lights, hanging treasured family ornaments and gathering around it come opening of presents time.
This Christmas Tree flipbook allows you to present the essence of the season with a Christmas tree drawn step-by-step, complete with blinking lights and a "Merry Christmas" greeting. Given as gifts, or sent in place of traditional greeting cards, these books are a perfect opportunity to remind your loved ones of a timeless holiday tradition.
Measures 4 inches x 2.5 inches. Fits perfectly into Christmas stockings.